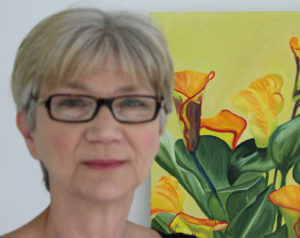 Growing up in Louisiana provided Annette with ample opportunity to observe nature and life around her.  She enjoys the discovery process of seeing something new and different every day during the creation of a painting. Annette expresses her interest in movement of line, color and the interplay of flat shapes against areas of depth in her paintings. She incorporates themes of nature, dance, water, human interactions and abstract concepts in her work. She paints with oils, acrylics, oil pastels, watercolors and mixed media.
Annette teaches art to interested students.
She has had paintings in Juried shows in Florida. She received a Bachelor of Fine Arts Degree from Louisiana State University.
instagram.com/fineartbyannette
Twitter.com/fineartbyannett
Facebook.com/FineArtByAnnette
Acrylic painting Instructor 2015 through Present
Featured Artist of the Month June 2018, Water Scenes, Gallery One Artists
Featured Artist of the Month August 2017, Solitude, Gallery One Artists
Featured Artist of the Month October 2014, Flowers, Gallery One Artists
Featured Artist of the week at FloridaArtistsRegistry.com September 1, 2014.
Three paintings-Canna Lily, Caladiums and Hibiscus in City Arts Factory of Orlando Juried show
November and December 2013
Contact Annette
Contact Annette for more information about her artwork.